WE CELEBRATE OUR 200th ANNIVERSARY
and you get the rewards.
Ronnefeldt celebrates its 200th anniversary. An excellent reason to thank you for your loyalty. Because with you, we want to write the next 200 years of tea history. Join us on the historic journey of a family-run tea trading company and look forward to a whole year full of special surprises and promotions.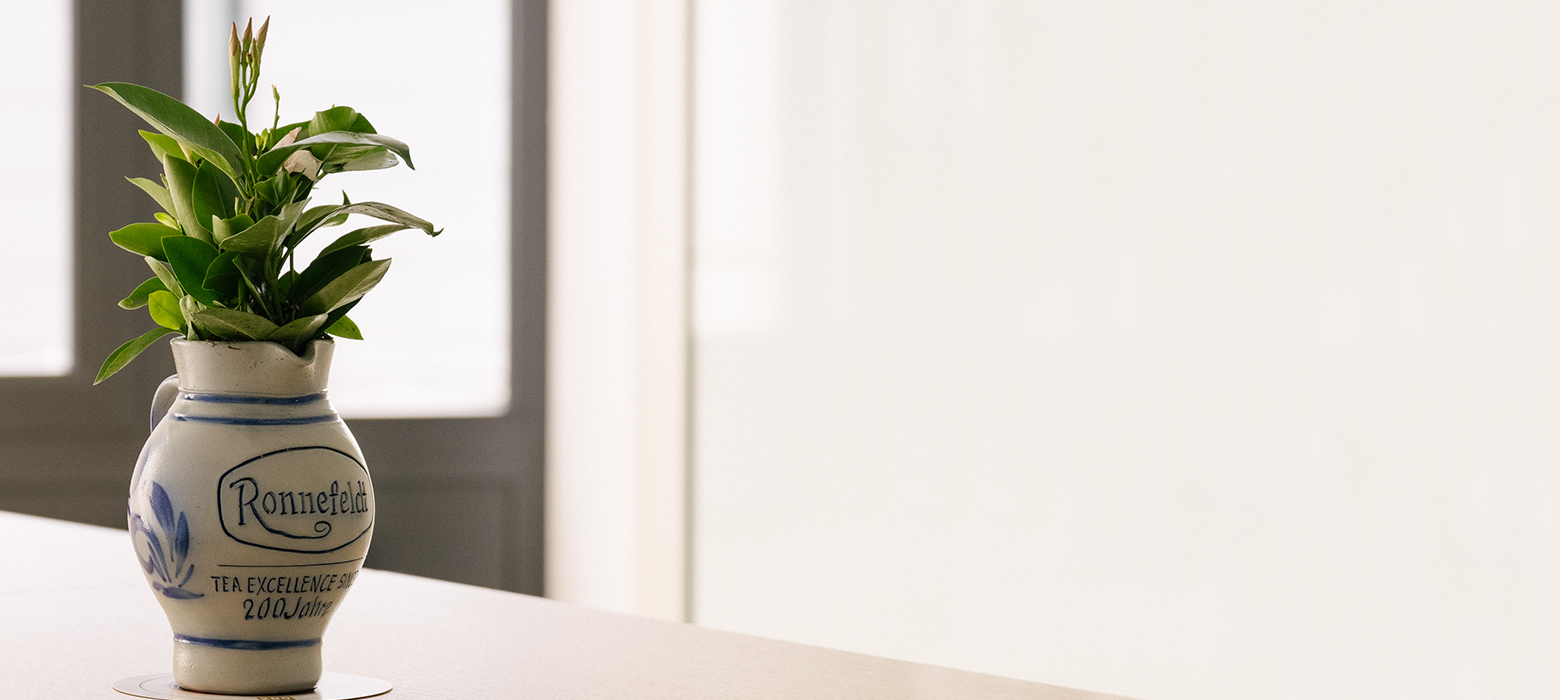 RAFFLE

Win a Frankfurt Bembel
"200 Years of Ronnefeldt"
Win a unique "200 Years of Ronnefeldt" Bembel.
This traditional Frankfurt Bembel made of Westerwald stoneware is a true masterpiece. It represents the connection between Ronnefeldt and the hometown of Frankfurt, to which we have been firmly connected since our founding in 1823.

Join us and secure the chance to win one of two exclusive "200 Years of Ronnefeldt" Bembels.

The deadline for participation is September 31, 2023.
The winners will be notified by October 15, 2023.

Register now for the German-language newsletter and enter the prize draw:
LET´S PARTEA
We're celebrating – join us.
Musical accompaniment is part of every successful birthday! We've put together the right songs in a Spotify playlist to get you in the mood for the anniversary – to dance, celebrate or simply enjoy.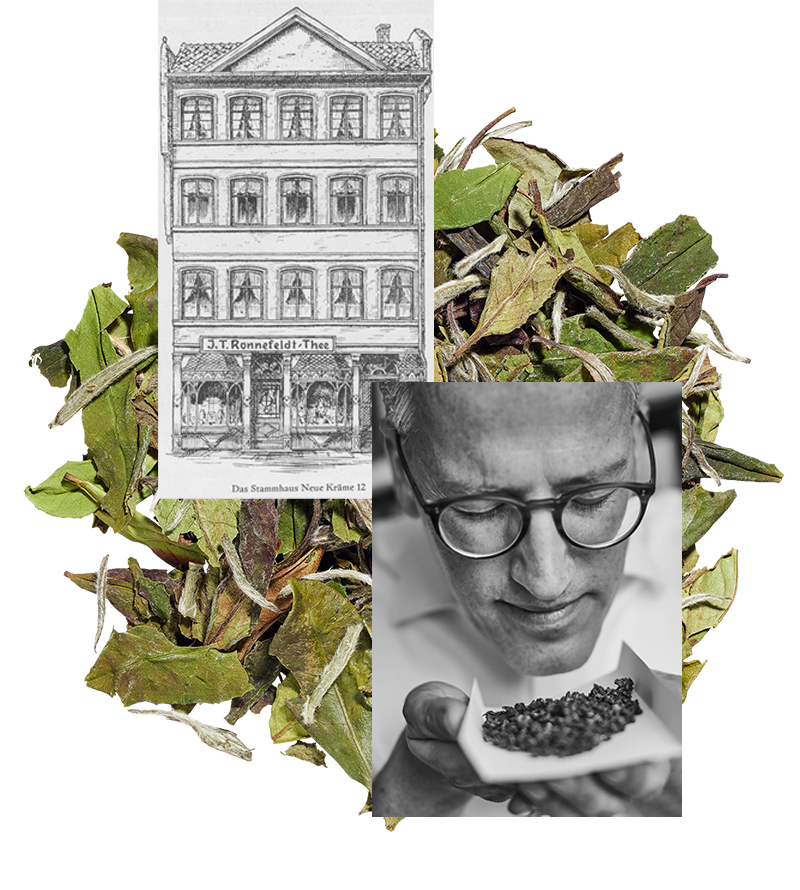 WE WOULD LIKE TO SAY
THANK YOU
Passion and visions of tea

The question of the recipe for success of a 200-year-old family business may be easier to answer than one might think. I am convinced that it is our passion for tea that has driven us tirelessly over generations.

When Johann Tobias Ronnefeldt set out in search of the finest teas from distant lands in the early days of the 19th century, he chose a challenging path. For me, this makes the task of carrying on this traditional company with vision and pride all the more a matter of honour.

Together with you and our passionate employees, we have managed to develop into one of the world's leading tea brands in the upscale hotel and catering industry. We are so proud.

Looking to the future with great anticipation: The Next 200 Years Of Tea Excellence

I would be delighted if we can continue to inspire you with the finest tea enjoyment and if we can write tea history together.

Sincerely,

Jan-Berend Holzapfel
Proprietor
GIVE US 2 MINUTES OF YOUR TIME
We'll give you 200 years of ours.
1823 to 2023
Two centuries full of exciting tea stories and influential personalities. The only true constant: the wonderful natural product tea.

Be curious and come with us on a journey through 200 years of company history – from the foundation in 1823 by Johann Tobias Ronnefeldt to today and into the next 200 years.
200 YEARS
A journey through time
Founding a tea house away from the major seaports in Frankfurt am Main was a bold move in 1823. Developing this company into one of the world's leading tea brands is a 200-year success story based on passion, inventiveness and love for tea.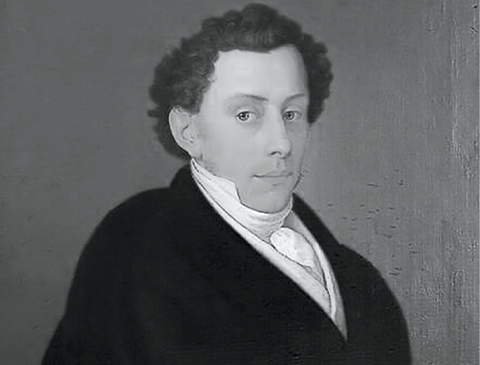 1823
Founding
After completing his apprenticeship and expanding his knowledge of the import and export business, Johann Tobias Ronnefeldt set up shop as an independent importer in his hometown of Frankfurt in 1823.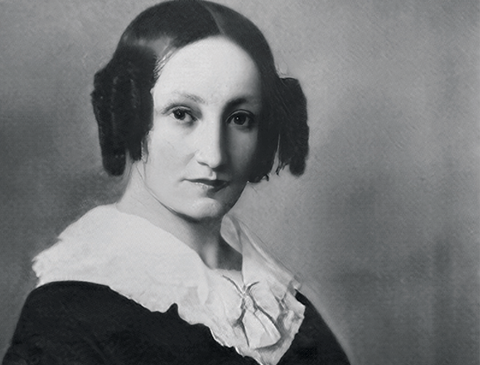 1845
Friederike Ronnefeldt takes over the business
Johann Tobias Ronnefeldt died on 14 August 1845, leaving his wife with five underage children and a business that had since grown to a considerable size.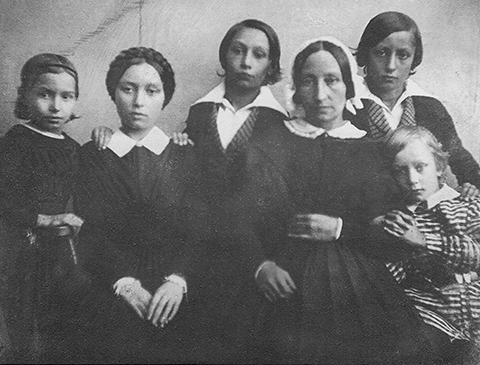 1860
The next generation
Carl Adolf and Philipp Wilhelm, the sons of Friederike and Johann Tobias Ronnefeldt, took over management of the tea trading company. Carl Adolf continued to take an active role in the business until he was 87 years old. His son Rudolf took over management at the end of the 19th century.

Photo: Friederike Ronnefeldt with her children ca. 1847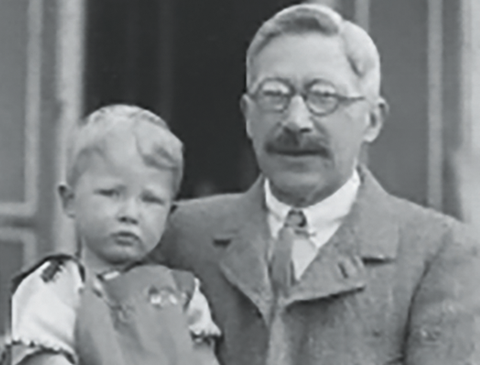 1884
Move to Frankfurt's Zeil shopping street
Carl Adolf Ronnefeldt acquired the large building on the Zeil, formerly the home of an important chronicler of the old imperial city from the von Lersner family. Ronnefeldt had in the meantime become a well-known tea brand.

Photo: Rudolph Ronnefeldt with grandson Herwarth Westphal ca. 1926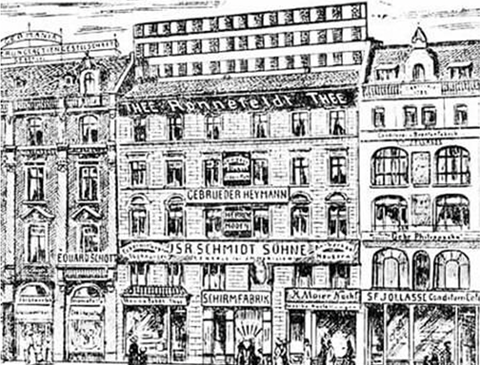 1904
Relocation to Mother Goethe's house
When the new Wronker department store was built on the Zeil, Ronnefeldt relocated to Rossmarkt 8, the building where Catharina Elisabeth Goethe, mother of Johann Wolfgang von Goethe, lived until the end of her days, the legendary 'Golden Fountain'.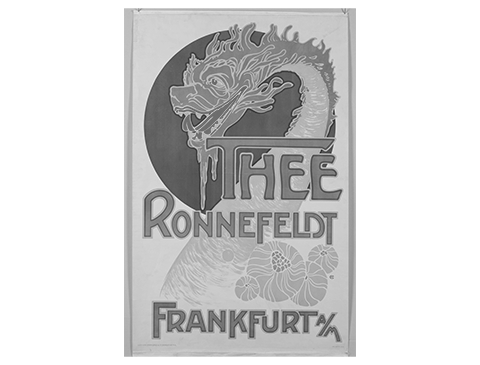 1904
The dragon poster created by Hans Christiansen
In the same year, Hans Christiansen, one of the Art Nouveau artists from the Mathildenhöhe Darmstadt Artists' Colony, designed an advertising poster for the tea house with a dragon's head as a symbol for tea from China.

Photo: Wolfgang Fuhrmannek, Hessisches Landesmuseum Darmstadt, CC BY-SA 4.0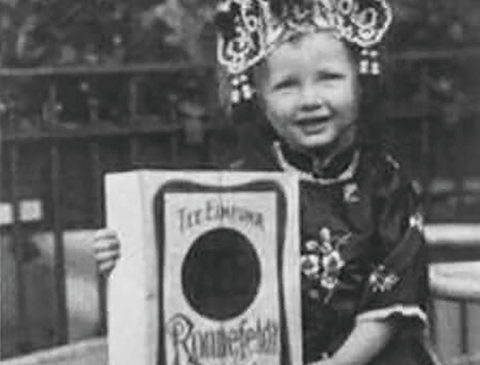 1962
Tea business in the hands of the third generation
Herwarth Westphal, the grandson of Carl Rudolf and great-grandson of Friederike and Johann Tobias Ronnefeldt, became co-owner of Ronnefeldt.

Photo: Herwarth Westphal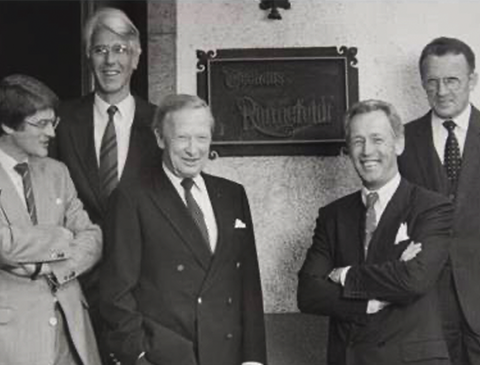 1984
Handover to Frank Holzapfel
At Herwarth Westphal's request, Frank Holzapfel took over Teehaus Ronnefeldt as sole partner in 1984, at the age of 45. He changed the company's strategy and repositioned the Ronnefeldt brand back to its origins as a gourmet and luxury product for the four- and five-star hotel industry.

In recognition of and appreciation for his life's work, he was posthumously awarded the Brillat Savarin Plaque in 2019, one of the highest honours in the hospitality industry.

Photo: Centre left: Herwarth Westphal; centre right: Frank Holzapfel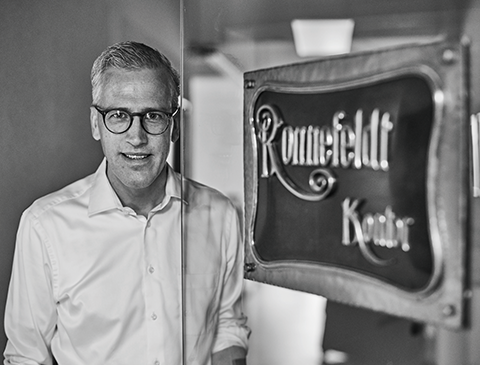 2005
Second generation of the Holzapfel family
Jan-Berend Holzapfel, Frank Holzapfel's son, became Managing Director and Co-Owner of Ronnefeldt. He focused on the strategic expansion of core markets and new international markets.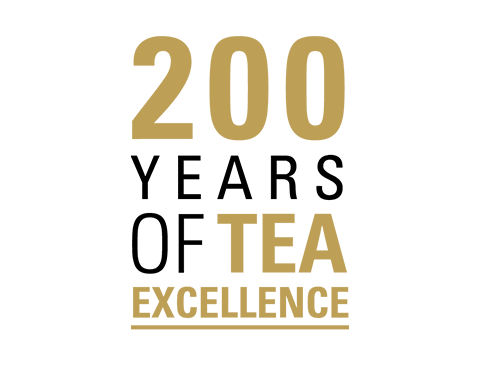 2023
200th anniversary
Ronnefeldt celebrates its 200th anniversary and continues to focus on excellent gourmet tea from the best tea gardens in the world.

The Next 200 Years of Tea Excellence.
Tradition with a future
We have gained a lot of experience over the last 200 years.
And we are taking this knowledge with us into the next 200 years.

As a dynamic company, it is important to us to move with the times and to anticipate current challenges, sustainably and responsibly. The focus is always on the enjoyment of a special drink in harmony with nature and our values.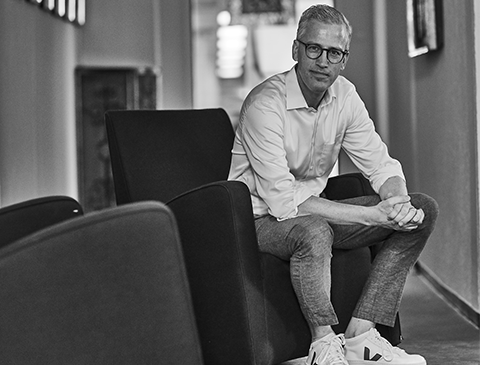 GENERATION NEXT
A family business with a love of tea
Tea is both a tradition and a companion of modern life. That is why it can develop so wonderfully as part of a family business. Herwarth Westphal, great-great-grandson of Friederike Ronnefeldt, handed over management to Frank Holzapfel, who passed it on to his son Jan-Berend. For a successful future with tradition.
MODERN TEA
Tea is trendy
Afternoon tea has long since ceased to be a solely British phenomenon. In recent years, it has become increasingly popular in many countries around the world. And it knows no culinary limits. Tea can be enjoyed with any type of food – be it sweet like chocolate or salty like cheese, filling like a sandwich or small and delicate like a macaron. The wide array of tea specialities can be served in different ways: chilled, mixed, flavoured and above all, never boring. Tea complements our colourful, modern lives.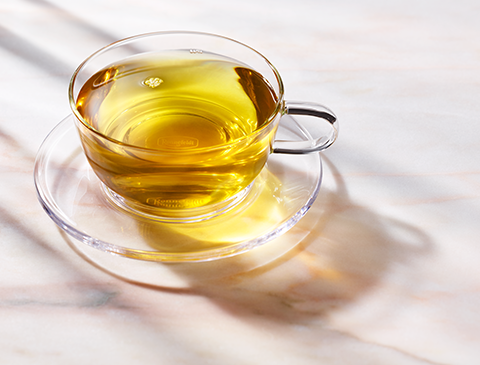 HIGHEST QUALITY
For the pleasures of tea
Our heart belongs to tea. That is why we make no compromises in the production of our high-quality varieties and compositions. From careful harvesting in the best tea gardens to refinement for the highest level of enjoyment.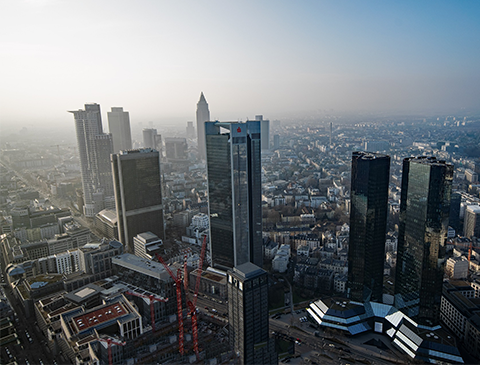 NEW WORK
Relocating the company headquarters
This year we are not only celebrating our anniversary, but also opening a new chapter in the company's history: Ronnefeldt's company headquarters is moving. The new office is located in Frankfurt's Westhafen with a wonderful view of the River Main. With this move, we are once again taking up our historical roots. Until 1990, Ronnefeldt had a bonded warehouse in Westhafen.

With the new location, we have been able to achieve our desire for flexible, modern, sustainable and communicative office space to create a liveable working culture. Having been founded in Frankfurt, it is also important to us to remain loyal to our tea trading company's birthplace.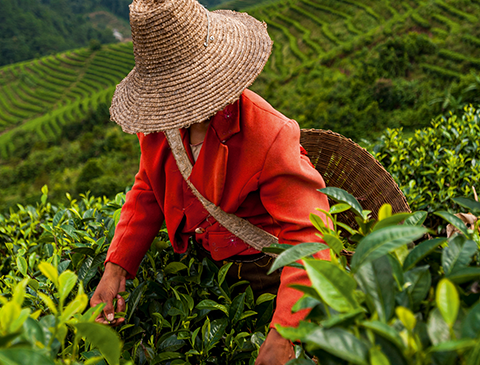 SUSTAINABILITY
Environmental responsibility
For us, as traders of a natural product, the pursuit of excellence goes hand in hand with sustainable business practices. In order to ensure an intact ecological system for future generations and the next 200 years of tea history, it is a matter of course for us to define environmental and social sustainability as a central quality criterion of our work. For this reason, the owner of our company, Ronnefeldt, Jan-Berend Holzapfel, personally oversees all sustainability projects.

The selection of our tea gardens is also based on sustainability criteria: Rwanda, for example, is a country where tea cultivation isn't the only surprise. Its measures when it comes to environmental protection, biodiversity protection and successful land use make Rwanda an ecological pioneer in Africa.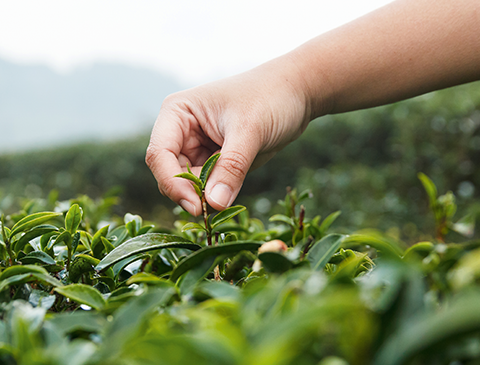 CAREFUL HANDIWORK
"Two leaves and one bud"
There is no substitute for expert hand-picking when it comes to high-quality tea. This is the only way to harvest according to the principle of 'two leaves and one bud': only the end bud and the two uppermost tender leaves find their way into our teas.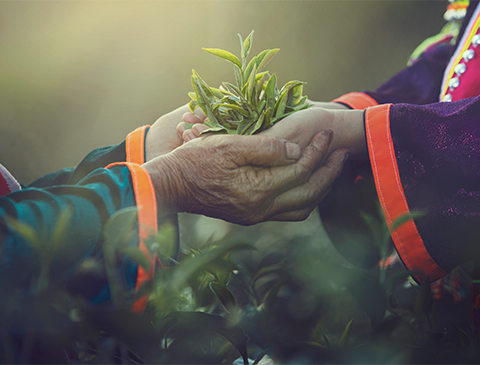 RESPONSIBILITY
Social projects at the source
For Ronnefeldt, social responsibility is a matter dear to our hearts and is an important quality criteria. We therefore place great value on tea-specific and regional funding initiatives, as this is where the greatest potential to provide effective support lies – in the tea-growing regions and for the people that work and live there.

To achieve this, we work closely with two organisations that are committed to socially and environmentally sustainable business practices in the countries of origin. Ronnefeldt has been a member of the non-profit organisation Ethical Tea Partnership (ETP) since 2013 and has been a partner and supporter of the Childaid Network for over 10 years.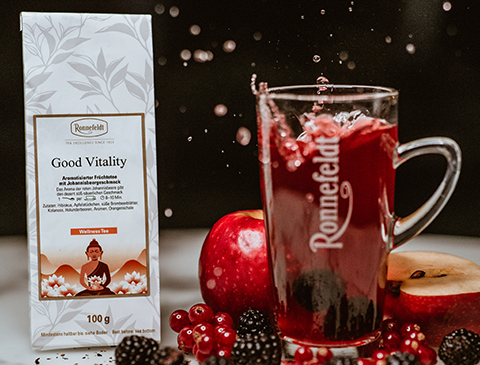 COMMUNITEA
Become part of the Ronnefeldt CommuniTEA.
Stay informed, see what we are up to every day and find out what make our tea delicious. Be inspired by the exciting stories about Ronnefeldt in our Instagram feed.
Ronnefeldt on Instagram
Ronnefeldt Tea Tour
in the Palmengarten Frankfurt

As part of the special partnership with the Palmengarten Frankfurt , a botanical garden which recently celebrated its 150th anniversary, Ronnefeldt tea tours will take place from May 26th. These tours will focus on the tea plant Camellia sinensis, from which most tea varieties are made. Visitors will have the opportunity to immerse themselves in the fascinating world of tea and learn more about the different varieties, their production, and their history.

"We at Ronnefeldt are incredibly proud to collaborate with the Palmengarten, such a traditional and beautiful place here in our hometown of Frankfurt. Our collaboration allows us to share our expertise and passion for tea with a wider audience and provide the visitors of the Palmengarten with a truly special experience. I hope that the Palmengarten visitors will enjoy the Ronnefeldt tea tour and take home a new understanding and appreciation for tea," said Jan-Berend Holzapfel.